5-7 Year Olds to Adults
At Elite Martial Arts, we understand busy schedules are the norm these days. That is why we try to provide plenty of options for attending class each week.
OUR CLASS PHILOSOPHY
Little Warriors (5, 6, and 7-Year-Olds)
This level covers basic striking and grappling while omitting submission skills because we don't trust these little maniacs until they're a bit older.  They can spend up to 2 years in this class if needed but the goal is to get bumped into the Level 1 class by developing the coordination, listening skills, and empathy needed to participate in the higher levels safely.  "Taking care of the other humans on the mat" goes a long way around here.
This level covers basic striking and grappling with the added responsibility of holding pads for partners and a slow and safe introduction to basic submission skills.  Level 1 consists of the first 3 belt ranks (around 9 months) and covers all of the the basic knowledge and skill they need to move into Level 2 confidently and safely.  By the end of Level 1 students have a more functional understanding of reality-based self-defense than I did after earning my second traditional martial arts black belt.
Level 2 training is the goal for all of our warriors!  After building a solid base of fundamentals, we get into problem-solving skills for all levels of threat.  The kids build their toolbox in Level 1 and fill it in Level 2.  Striking and mauling skills are for real bad guys and submission grappling is for bullies who need to be safely controlled.  "We don't have to be best friends but you do have to leave me alone."  Kids can spend years in this rotating curriculum and always learn something new while honing the skill set they've already built. Kickboxing gear (boxing gloves, shin guards, and a helmet) is required for Level 2 and the only thing parents will ever have to buy.
REGISTER FOR OUR UPCOMING
classes
We have separate classes for ages 5-7, 8-13 beginner, 8-13 advanced, and adults and teens.
Feel free to show up and observe a class any time!
The schedule is below, and there's no appointment necessary.
5-7 Year Olds

All Belt Ranks

8-13 (Level I)

First 9 Months of Training

8-13 (Level II)

Green-Black Belt Adv. Training

Adults

Adults & Teens

Monday: 5:15pm
Monday: 6:00pm
Monday: 4:00pm
Monday: 6:45pm
Tuesday: 4:00pm
Tuesday: 4:45pm
Tuesday: 5:30pm
Tuesday: 6:45pm
Wednesday: 5:15pm
Wednesday: 6:00pm
Wednesday: 4:00pm
Wednesday: 6:45pm
Thursday: 4:00pm
Thursday: 4:45pm
Thursday: 5:30pm
Thursday: 6:45pm
Friday: Closed
Friday: Closed
Friday: Closed
Friday: Closed
Saturday: 10:00am
Saturday: 10:45am
Saturday: 10:45am
Saturday: No Class
Sunday: Closed
Sunday: Closed
Sunday: Closed
Sunday: Closed
Join Level II Classes
Join Level II Classes
Join Adult Classes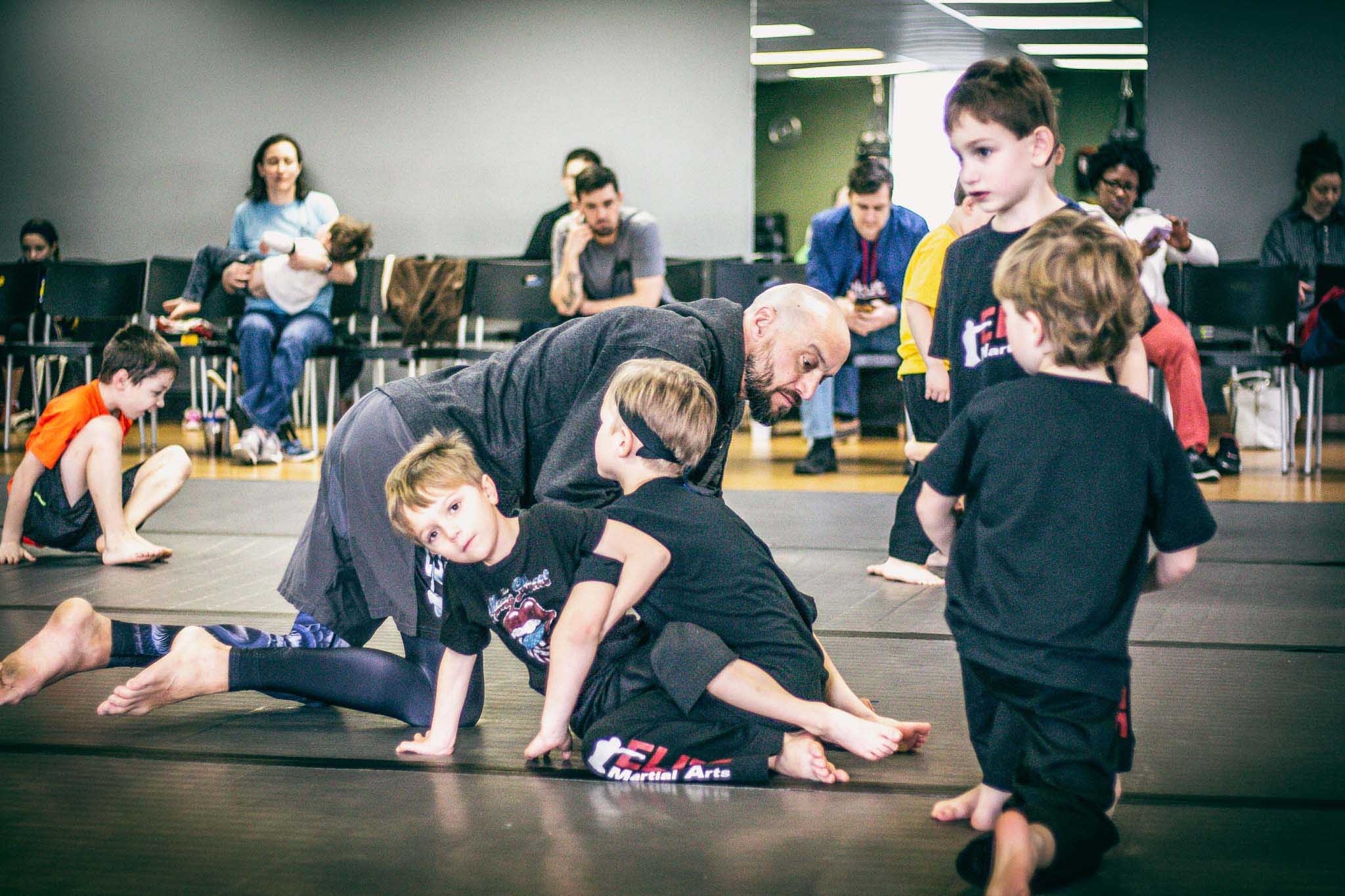 I like Jason's approach to teaching kids real skills they can use. Funny thing is, you don't need colored belts to inspire kids… Elite has figured it out!
I like Mr Jeanette. He is really nice, but makes us really tough at the same time. He is always encouraging to me.
Elite Martial Arts has been an awesome experience. Aside from teaching my daughter self defense, she has made new friends and really likes the dodge ball parties.